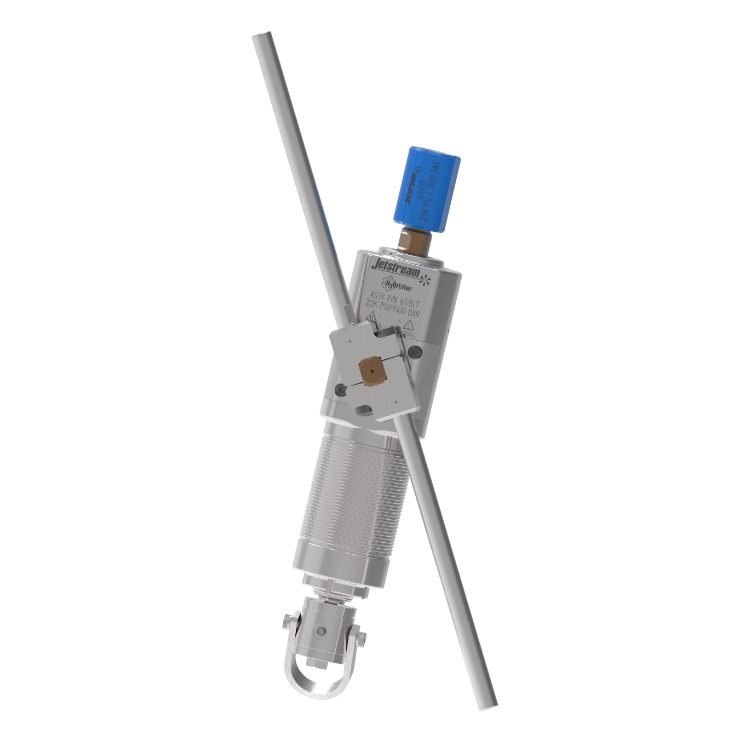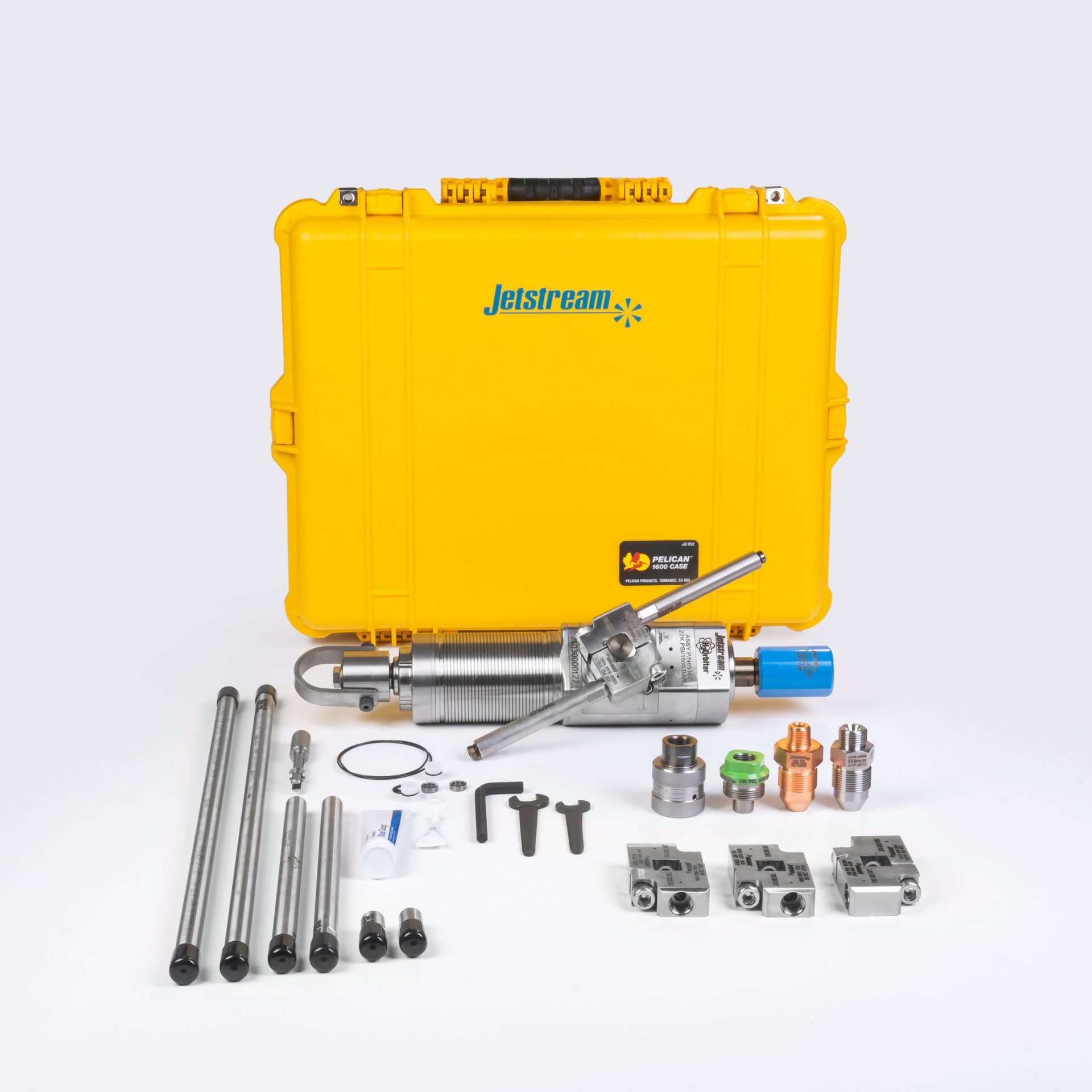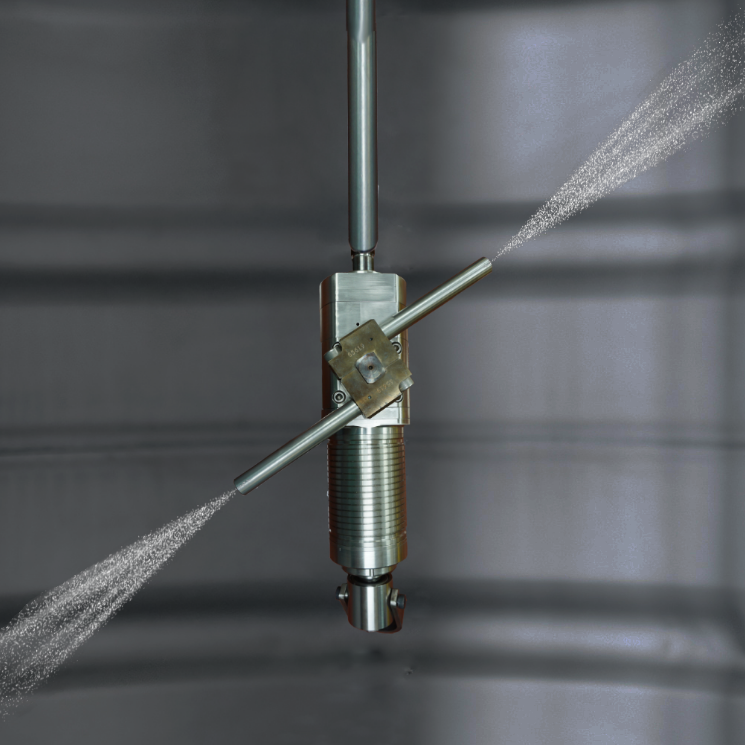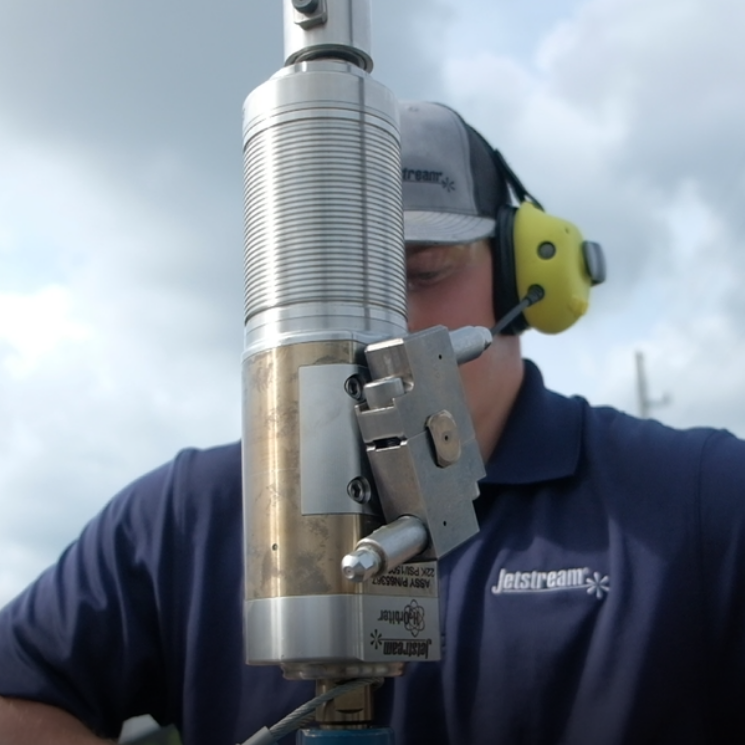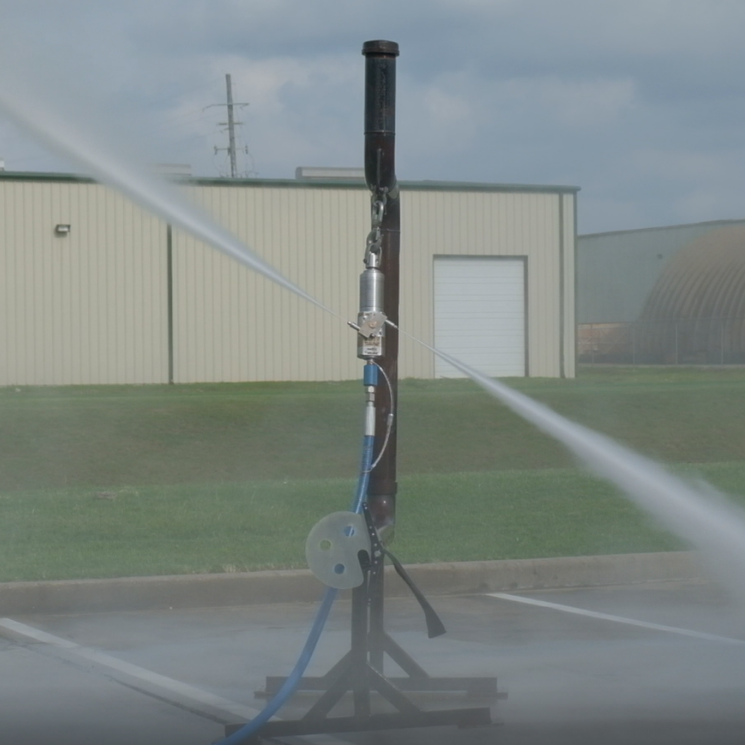 ---
Three-Dimensional Dynamic Cleaning
The H3Orbiter™ is a 3D waterblast tool designed to clean tanks, rail cars, totes, vessels, autoclaves, ducts, and reactor interiors with working pressures up to 22,000PSI and flows from 10 to 80 gpm. Many rotating tools offer only a single axis of rotation, while the H3Orbiter™ operates on two axis to deliver powerful waterblast jets to every surface within a vessel. An easily adjustable, maintenance free magnetic braking system controls the rotation speed along with a selection manifolds for different flow ranges. The complete H3Orbiter cleaning cycle varies from about 4 to 30 minutes depending on rotation speed, which is set by the pressure, flow rate, nozzle diameter, manifold choice, and brake settings. When used in large vessels, extension arms up to 36 inches long can be used to keep the rotating nozzle jets near the surface for maximum cleaning efficiency. Using an optional Kick Plate and centralizer cage attachment the H3Orbiter™ is also capable of pipe cleaning through self generated forward movement with each 180° rotation. With a narrow overall diameter for use in small hatches, the Jetstream H3Orbiter™ conquers industrial cleaning challenges with speed and accuracy you can depend on.
Accessories
Premium kits and Starter kits are available for full product tools. All kits include a durable waterproof case, the Product Instructions, and the Quick Start Guide.
Premium Kits also include a rebuild kit with the tools required to completely rebuild the tool quickly and easily.
Service Kit
Adapter
Type M Adapter
R30, R50, R90, R150 Manifolds
2″, 6″, 12″, 24″ Extension
1/2″ NPT Half Coupling
1-1/8″ ORS Coupling
Coupling Plug
Tow Ring
Centralizer
Inlet Adapters
Nozzles Extensions
Optional Kick Plate
1-1/8″ ORS Male

inlet with adapters for industry standard connections.
Rotational speed 8 to 50 rpm.
Tool diameter 4 inches (100 mm).
Tool weight 35 lbs (16 kg).
Max flow 80 gpm (307 lpm).
Max operating pressure 22,000 psi (1500 bar).
Accepts HHTC Series carbide, HHD Series synthetic diamond, or JS4 Series nozzles
Adjustable Speed Control
Utilizes multiple different manifolds allowing the operator to fine tune for flow and pressures from 10 GPM to 80 GPM and 8,000 PSI to 22,000 PSI.
Maintenance free magnetic braking system.
Narrow overall diameter for tight hatch access.
Easy access grease zerks for simple lubrication maintenance.
Wide range of accessories including cage centralizers, extensions, tow rings and the Jetstream Versaboom™.
3D cleaning and 2D cleaning capable.